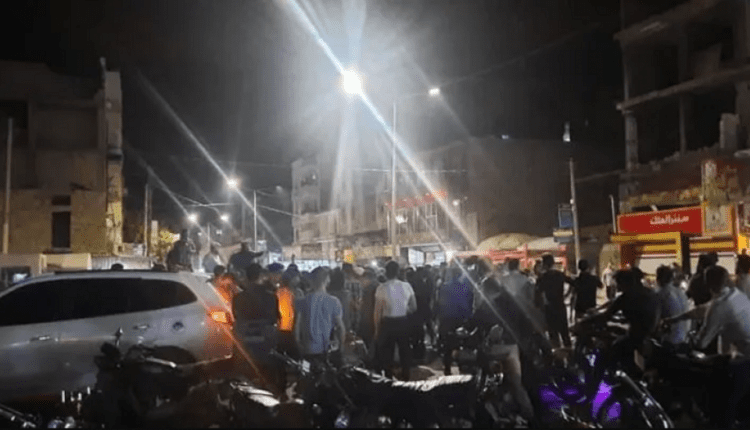 عفرين تنتفض..تجدد الغضب الشعبي ضد الاحتلال التركي بشمال سوريا..فيديو
كشفت تقارير كردية عن تجدد التظاهرات المناهضة للاحتلال التركي في عفرين ومارع المحتلتين
ونقلت وسائل إعلام عن مصادر محلية كردية خروج المئات من الأشخاص في مدينتي عفرين ومارع المحتلتين، في تظاهرة حاشدة تنديداً بالسياسات التي تمارسها دولة الاحتلال التركي في المناطق المحتلة.
ورفع المتظاهرون شعارات تطالب بخروج جيش الاحتلال التركي من المناطق المحتلة في الشمال السوري.
#Breaking
Demonstrations against theft and corruption have resumed in occupied #Afrin. In the demonstrations, the violence of the #Turkish occupation army and mercenaries against the demonstrators is protested.#Rojava #Syria
#Rojava_Media pic.twitter.com/jQq0ziEQFI

— Rojava Media – RMC (@Rojava_Media) June 4, 2022
من جانبه، أكد المرصد السوري لحقوق الإنسان، اتساع رقعة الاحتجاجات الشعبية التي بدأت مساء أمس من عفرين شمال سوريا، لتمتد لمناطق أخرى خاضعة للنفوذ التركي والفصائل الموالية لها بالريف الحلبي، حيث شهدت كل من مارع وصوران واعزاز وجنديرس احتجاجات شعبية ضد شركة الكهرباء التركية، وسط اقتحام المتحتجين لمقر الشركة في مارع وإضرام النيران فيها.
وتشهد مدينة عفرين توترا كبيرا، على خلفية قيام "الشرطة العسكرية" و"حرس مقر الوالي التركي" في المدينة بإطلاق الرصاص لتفريق المحتجين، وسط معلومات مؤكدة عن إصابة اثنين من المحتجين بالرصاص.
منطقة أردوغان (الامنة)!
الجيش التركي يطلق الرصاص الحي على متظاهرين سلميين في عفرين المحتلة. pic.twitter.com/czco34ERLB

— Farhad Shami (@farhad_shami) June 3, 2022
وكان المرصد السوري كشف عن وقفات احتجاجية للأهالي أمام شركة الكهرباء التركية في مدينة عفرين الخاضعة لنفوذ القوات التركية والفصائل الموالية لها شمال غربي حلب، وذلك على خلفية "التجاوزات" وقطع الكهرباء المتكرر بذريعة الأعطال الفنية.
ووفقاً لنشطاء المرصد السوري، فقد عمد المحتجون لاقتحام مبنى الشركة وتكسير وتخريب محتوياته.
وأصيب متظاهر برصاص عناصر الشرطة المحلية أثناء محاولتهم تفريق مظاهرة ضد شركة الكهرباء التركية في منطقة جنديرس بريف عفرين شمال غربي حلب مساء أمس، والمصاب من مهجري دير الزور وهو مقاتل في صفوف فصيل جيش الشرقية، إلا أنه لم يكن يحمل السلاح خلال المظاهرة، حيث تشهد جنديرس استنفارا كبيرا لفصيل جيش الشرقية وسط مخاوف شعبية من اندلاع اقتتال مسلح في الوقت ذاته.
كما شهدت مدينة الباب شرقي حلب مظاهرة ضد شركة الكهرباء التركية، وعمد المحتجون في مدينة مارع شمالي حلب إلى حرق مقر المجلس المحلي في المدينة في إطار استمرار الاحتجاجات الشعبية، كما ردد المتظاهرون عبارات "سورية حرة حرة.. والتركي يطلع برا".
تعزيزات روسية


على صعيد آخر، استقدمت القوات الروسية تعزيزات عسكرية، الجمعة، إلى قاعدة عسكرية تابعة لها في ريف منطقة منبج، شمال شرقي محافظة حلب، والمعروفة بقاعدة "السعيدية"، وذلك في إطار تصاعد التحركات الروسية في منطقة شمال شرق سورية منذ أيام تزامناً مع التصعيد الإعلامي من قبل الجانب التركي والماكينة الإعلامية التابعة لحكومة الرئيس التركي رجب طيب أردوغان حول شنّ عملية عسكرية تركية جديدة على المنطقة لطرد المقاتلين الأكراد.
وأشار المرصد السوري لحقوق الإنسان إلى أن 3 مروحيات روسية حلقت على علو منخفض منذ ساعات الصباح الأولى أمس الجمعة، على الشريط الحدودي بين وسوريا وتركيا، انطلاقًا من مطار قامشلي وشمل التحليق قرى وبلدات بريف عامودا والدرباسية وصولا إلى أبو راسين (زركان) بريف الحسكة الشمالي والشمالي الغربي.
ذات صلة
ضرب وصعق.. مقتل مواطن على يد ميليشيا موالية لـ تركيا بشمال سوريا
فلتان أمني وصراعات داخلية..ميليشيات تركيا تواصل انتهاكاتها فى شمال سوريا