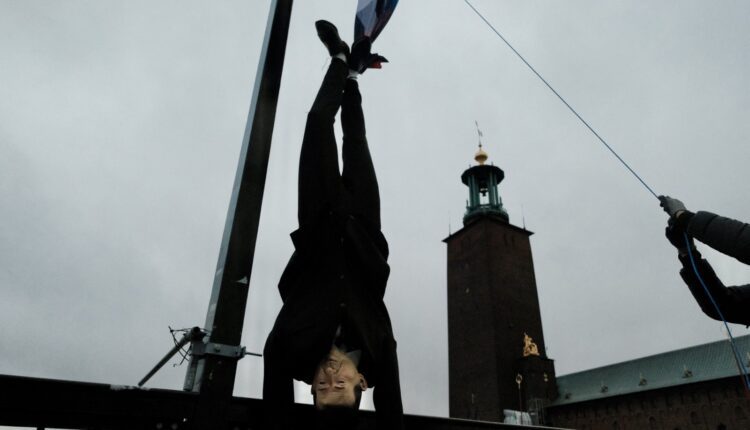 اتهامات لـ كرد استكهولم..دمية أردوغان تثير غضب تركيا وقلق السويد | شاهد
أكدت تقارير صحفية أن الادعاء التركي فتح تحقيقا، الجمعة، بعد تعليق دمية للرئيس، رجب طيب أردوغان، في ستوكهولم، فيما علقت السويد على هذه الواقعة، التي من المحتمل أن تزيد المعوقات الدبلوماسية أمام مسعى السويد نيل موافقة تركيا على انضمامها لحلف شمال الأطلسي (الناتو).
وبحسب وكالة رويترز فقد ظهرت دمية لأردوغان معلقة من قدميها خارج مقر بلدية ستوكهولم وعدد قليل من الأشخاص يقفون بجانبها في لقطات كانت أول من ينشرها على تويتر ما تطلق على نفسها "لجنة التضامن السويدية من أجل روج آفا"، في إشارة إلى المناطق الكردية في سوريا.
Turkey summons Swedish ambassador over Erdogan puppet protest in Stockholm https://t.co/kQmXdbrw4H pic.twitter.com/bktAeDSXVO

— Mutlu Civiroglu (@mutludc) January 13, 2023
وبحسب وسائل إعلام، قال رئيس الوزراء السويدي، أولف كريسترسون، لقناة "تي.في4″، الجمعة، إن هذا العمل "خطير للغاية" واعتبره تخريبا لملف بلاده للانضمام لحلف شمال الأطلسي.
و بحسب اسوشيتد برس،قالت الشرطة إنها لم تكن على علم بالحادث حتى انتهى.
واستدعت تركيا، العضو في حلف شمال الأطلسي، السفير السويدي، الخميس، بشأن الحادث الذي يأتي بعد شهور من جهود تبذلها ستوكهولم لكسب دعم أنقرة لمحاولتها التي بدأتها بعد الغزو الروسي لأوكرانيا العام الماضي.
وقالت أنقرة إن السويد يجب أن تتخذ موقفا أكثر وضوحا ضد من تعتبرهم تركيا إرهابيين، ومعظمهم من المسلحين الأكراد والمنظمة التي تتهمها بتدبير محاولة الانقلاب في 2016.
وقالت وكالة أنباء الأناضول التركية المملوكة للدولة إن التحقيق بدأ بعد أن قدم محامي أردوغان التماسا قانونيا.
Erdogan's mannequin has been executed in Sweden's Stockholm, which drew strong criticism from the Turkish leadership

The Swedish FM in response says "Portraying a popularly elected president as being executed outside City Hall is abhorrent."

— Ragıp Soylu (@ragipsoylu) January 12, 2023
وقال حسين آيدين، محامي إردوغان، "قدمنا شكوى جنائية لمكتب المدعي العام في أنقرة تطالب بفتح تحقيق ضد من ارتكبوا ذلك".
وأضاف آيدين أنه من المعروف أن حزب العمال الكردستاني هو الذي نظم ذلك، وهو نفس ما قالته وسائل إعلام تركية موالية للحكومة بثت لقطات للواقعة.
وتصنف تركيا والاتحاد الأوروبي والولايات المتحدة الحزب على أنه منظمة إرهابية.
واستنكر رئيس الوزراء السويدي، أولف كريسترسون، احتجاج الأكراد في وسط ستوكهولم حيث تم تعليق دمية للرئيس التركي من عمود إنارة، ووصفها بالعمل التخريبي ضد محاولة السويد الانضمام إلى حلف شمال الأطلسي (الناتو).
ووقعت السويد وفنلندا اتفاقا ثلاثيا مع تركيا العام الماضي بهدف التعامل مع ما تعترض عليه أنقرة فيما يتعلق بطلبيهما للانضمام لحلف شمال الأطلسي اللذين تقدمتا بهما في مايو. ويتطلب انضمامها للحلف موافقة جميع دوله الأعضاء وعددها 30.
وقال كريسترسون لتي.في4 إن الواقعة ربما "تشكل خطورة" على عملية الانضمام للحلف.
وأدان إبراهيم كالين، المتحدث باسم إردوغان، واقعة الاحتجاج "المثيرة للاشمئزاز والمشينة"، وقال إن السلطات السويدية ملزمة باتخاذ خطوات ملموسة بموجب القانون والاتفاق مع تركيا.
وأضاف "ما لم تتوقف أنشطة المنظمات الإرهابية، فلا يمكن أن تمضي عملية الانضمام للحلف قدما".