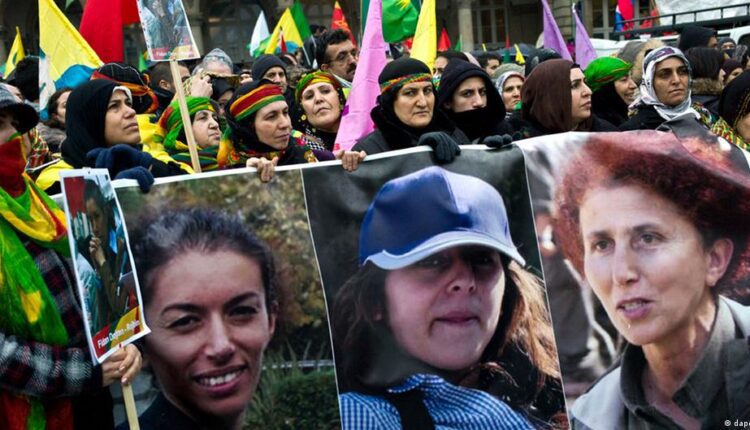 آلاف الكرد يتظاهرون بـ فرنسا فى ذكري مجزرة باريس الأولي..شاهد
شهدت العاصمة الفرنسية باريس اليوم السبت تظاهر آلاف الأكراد، في الذكرى العاشرة لاغتيال 3 ناشطات في شارع لافييت عام 2013 .
وعبرت الجماعات الكردية عن غضبها من عدم التعرف على هوية مرتكب الجريمة.
وبحسب وسائل إعلام فقد رفع المتظاهرون، الذين أتوا من مدن فرنسية عدة ومن دول أوروبية مجاورة لفرنسا، الشعارات المطالبة برفع السرية عن التحقيقات التي أجرتها فرنسا حول الجهة التي نفذت الاغتيال متهمين تركيا بوقوفها وراء المنفذ، وقائلين إنها خططت لذلك.
وطالب المتظاهرون بتحقيق العدالة بشأن الفرنسي العنصري وليم ام الذي أطلق النار على مركز ثقافي كردي في باريس في 23 ديسمبر الماضي ما أدى إلى مقتل 3 ناشطين.
#kurds are once again gathering in #paris: it is 10 years ago on 9 january that three kurdish #women, among whom #pkk co-founder sakine cansız, were murdered there by #turkey's secret service mit. they demand justice, also for the three kurds who were murdered there 23 december. https://t.co/OOHPGNWy1t

— Frederike Geerdink (@fgeerdink) January 7, 2023
وشارك في التظاهرة ، التي انطلقت من محطة قطارات غار دو نور ممثلو أحزاب وهيئات قانونية وجمعيات فرنسية، أكدوا خلالها على حق الأكراد في التعبير والمطالبة بكشف التحقيقات التي يطالبون بها.
و حسب أسوشيتد برس نقلت نحو 12 حافلة من ألمانيا وهولندا وسويسرا وبلجيكا، برفقة الشرطة، نشطاء أكراد إلى نقطة انطلاق المسيرة بالقرب من محطة قطار جار دو نورد في شمال باريس.
وتأتي التظاهرة في هذا التوقيت إحياء للذكرى السنوية العاشرة لمقتل سكينة كانسيز وفيدان دوجان وليلى سايلميز في 9 يناير 2013.
وكانت كانسيز أحد مؤسسي حزب العمال الكردستاني أو "بي كي كي" الذي تصنفه تركيا والولايات المتحدة والاتحاد الأوروبي منظمة إرهابية.
ويشتبه الناشطون الأكراد في تورط جهاز الاستخبارات التركي في جريمة القتل.
وتوفي المهاجم المشتبه به وهو مواطن تركي في سجن فرنسي قبل وصول القضية للمحاكمة.
وأشار مسؤولون أتراك آنذاك إلى أن عملية القتل ربما تكون جزءا من نزاع داخلي بين النشطاء الأكراد أو محاولة لعرقلة محادثات السلام.
ووضعت شرطة باريس في حالة تأهب، السبت، بعد أن شهدت التجمعات الكردية في الماضي مناوشات، لا سيما ردا على إطلاق النار الشهر الماضي.
وبعد هجوم 23 ديسمبر، أخبر المهاجم المشتبه به المحققين أنه لديه كراهية "مرضية" تجاه الأجانب غير الأوروبيين، بحسب ممثلي الادعاء.
وواجه اتهامات أولية بالقتل بدوافع عنصرية، رغم أن نشطاء أكراد يشتبهون في أن الهجوم له دوافع سياسية.
استدعت تركيا السفير الفرنسي الأسبوع الماضي على خلفية ما وصفته بأنه دعاية من قبل النشطاء الأكراد في فرنسا بعد إطلاق النار. نظم البعض مسيرة في باريس حاملين أعلام حزب العمال الكردستاني المحظور في تركيا.