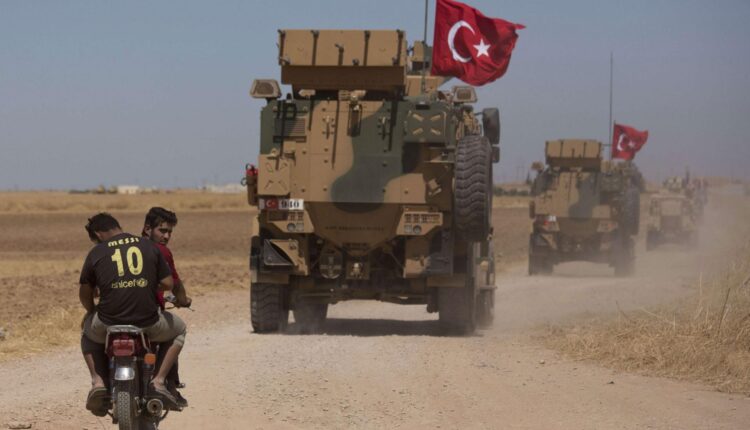 تركيا تهدد بـ شن عملية عسكرية جديدة في شمال سوريا
تصاعدت حدة التصريحات التركية المعادية لمشروع الإدارة الذاتية بشمال سوريا، واليوم الخميس قال مسؤول بوزارة الدفاع التركية، إن شن عملية برية في سوريا من بين الخيارات التي قد تبحثها تركيا بعد أن خلصت أنقرة إلى أن مهاجمين اثنين فجرا قنبلة قرب موقع حكومي مطلع الأسبوع أتيا من سوريا.
وبحسب وكالة رويترز ، أضاف المسؤول التركي:"هدفنا الوحيد هو القضاء على المنظمات الإرهابية التي تشكل تهديدا لتركيا. عملية برية هي أحد الخيارات للقضاء على هذا التهديد لكنها ليست الخيار الوحيد بالنسبة لنا".
وفي سياق متصل ذكرت صحيفة "حرييت" نقلا عن مصادر بوزارة الدفاع التركية قولها إن العمليات ضد حزب العمال الكردستاني ستستمر في نطاق الحرب ضد الإرهاب.
وقالت: "حزب العمال الكردستاني ووحدات حماية الشعب هما نفس المنظمة الإرهابية، ونحن نقول دائما إنهم هدفنا المشروع أينما كانوا يعملون".
وذكّرت المصادر "الدول الصديقة والحليفة" بضرورة عدم التواجد بالقرب من الإرهابيين، قائلة: "هذا تذكير".
وتابعت "من حق تركيا الطبيعي أن تنفذ عملية تتماشى مع حقوقنا في الدفاع عن النفس الناشئة عن القانون الدولي، من أجل القضاء على الهجمات الإرهابية ضد شعبنا وقواتنا الأمنية".
وأشارت إلى أن "العديد من العوامل فعالة في تحديد مسار العمل الذي يجب اتخاذه، وأن الهدف الوحيد هو تدمير المنظمات الإرهابية التي تشكل تهديدا لتركيا، وأن العملية البرية ليست الخيار الوحيد".
يأت هذا رغم نفي قيادات الكرد بسوريا أى صلة لهم بالهجوم الذى شهدته تركيا.
تعليق الجنرال مظلوم
وكان الجنرال مظلوم عبدي قائد قوات سوريا الديمقراطية قد أكد أنهم ليسوا طرفا في الصراع الداخلي بتركيا ، مشدا على أن منفذو هجوم أنقرة لم يمروا عبر مناطق الإدارة الذاتية  كما يدعي المسؤولون الأتراك".
وقال عبدي في تغريدة عبر حسابه على منصة إكس "إن تركيا تبحث عن الذرائع لإضفاء الشرعية على هجماتها المستمرة على منطقتنا وشن عدوان عسكري جديد يثير قلقنا العميق".
Ankara's attack perpetrators haven't passed through our region as Turkish officials claim, and we aren't party to Turkey's internal conflict nor we encourage escalation.
Turkey is looking for pretexts to legitimize its ongoing attacks on our region and to launch a new military…

— Mazloum Abdî مظلوم عبدي (@MazloumAbdi) October 4, 2023
واعتبر "إن التهديد باستهداف البنية التحتية للمنطقة ومواردها الاقتصادية ومدنها المأهولة بالسكان هو جريمة حرب، وهو ما شهدناه من قبل.ونحث الأطراف الضامنة والمجتمع الدولي على اتخاذ المواقف المناسبة إزاء هذه التهديدات المتكررة وضمان السلام والاستقرار في المنطقة".